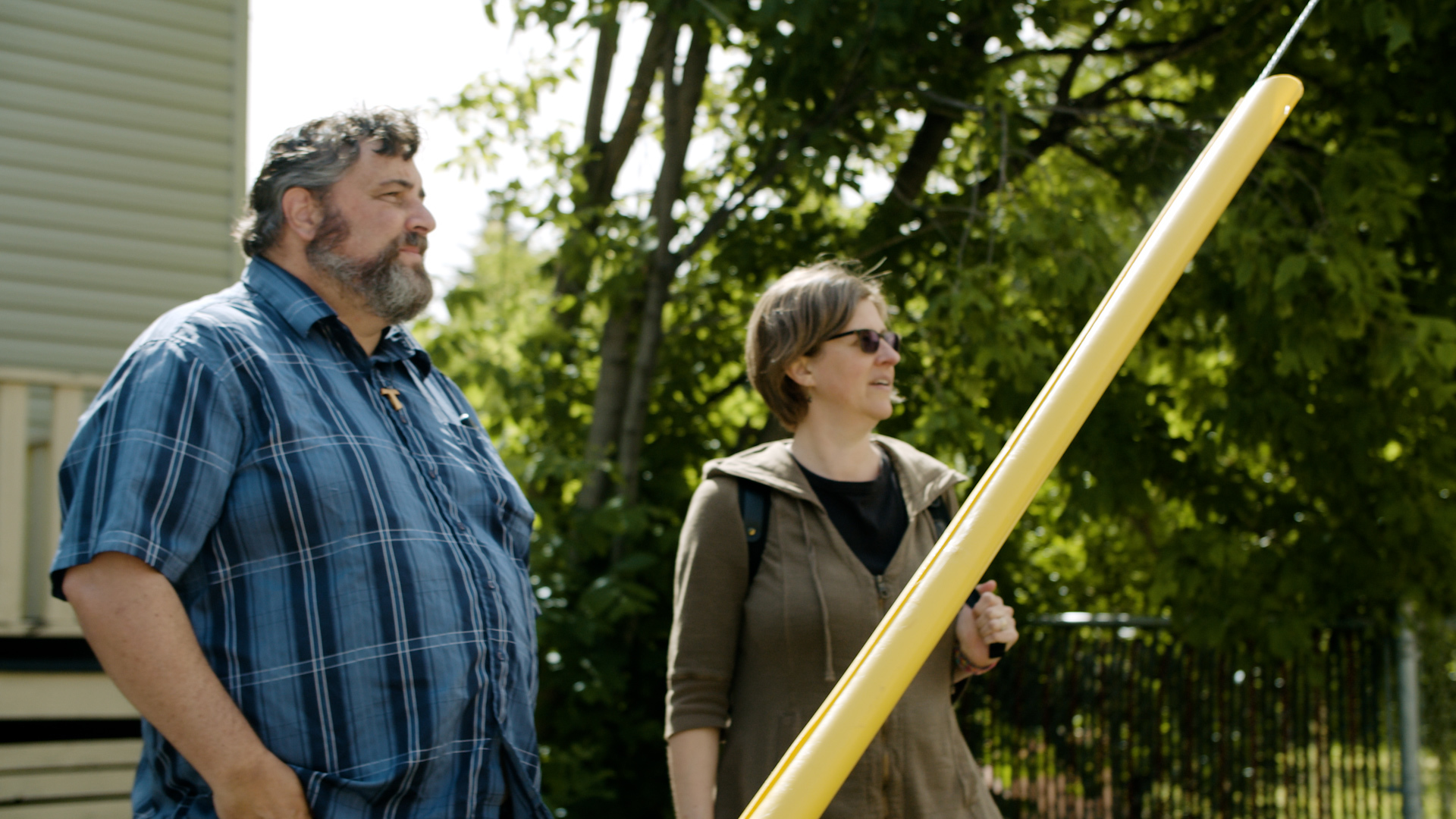 July 19th

Local Mission Grants Awarded

[Photo: Jamie Arpin-Ricci from Little Flowers Community surveys the neighbourhood with Melanie Neufeld, MCM Mission Engagement Director]

Eight Mennonite Church Manitoba congregations will receive a total of $30,000 for missional engagement in their local communities.

"Finding intentional ways to love our neighbours is an important practice for the church," says Melanie Neufeld, MCM's Director of Mission Engagement. "We're excited to see what God will do with these new and ongoing initiatives."

The Local Mission Grant fund was created out of MCM's 2021 budget surplus. After setting aside surplus for MCM's general reserve and capital funds, the Board decided to leave $30,000 for a one-time fund to spark community involvement among MCM's congregations and to encourage congregations after two-and-a-half years of pandemic.

The application evaluation committee included Neufeld, MCM Executive Minister Michael Pahl, and MCM Board member Andrea Hildebrand. The congregations which applied for and received funding are:
Carman Mennonite Church, to help start a community food bank out of their church in partnership with Manitoba Harvest and other local churches and community organizations.

Jubilee Mennonite Church, to continue their afterschool program for kids in partnership with A Rocha Manitoba.

Little Flowers Community, to provide peer support and emergency funding for people with mental health challenges in their inner-city neighbourhood.

North Kildonan Mennonite Church, to build an outdoor basketball court in their parking lot as part of a larger outreach effort into their community.

Prairie Mennonite Fellowship, to help with their sponsorship of a family from Syria.

Seeds Church, to contribute to the renovation of their church space to become a resource hub for the community, in partnership with other local churches and organizations.

Springstein Mennonite Church, to equip their church building to serve as a community centre in partnership with the local Community Club Board.
Grant recipients are eager to get working.
Mackenzie Hildebrand, Faith Development Pastor at North Kildonan Mennonite Church, says, "NKMC is excited to build meaningful connections by creating an accessible activity and hospitable space for members of the community to connect. Without the support of MCM's Local Mission Grant this project might have never made it past the ideas stage."
Bob Pauls of Carman Mennonite Church echoes these sentiments. "The invitation from MCM for churches to apply for a mission grant served as an encouragement for our congregation to look beyond itself and see where we could make a positive difference in the community," Pauls says. "While the grant money will be of great assistance in helping to start such a project, just as important was MCM's encouragement for congregations to imagine missional possibilities that we could be part of."
Mennonite Church Manitoba is a covenant community of 37 congregations and is a member of Mennonite Church Canada.
-30-
For more information contact:
Melanie Neufeld, Director of Mission Engagement, Mennonite Church Manitoba
204-896-1616 or mneufeld@mennochurch.mb.ca
or
Darryl Neustaedter Barg, Director of Communications, Mennonite Church Manitoba
204-896-1616 or dnbarg@mennochurch.mb.ca